Users of smart home appliances increasingly are looking for displays that mirror the outstanding visual characteristics of devices they have become used to in the consumer products space. In many such applications IPS ("in-plane-switching") displays can deliver the required results.
Recently, ZETTLER's AZ Display division was approached by a leading manufacturer of smart home appliances, searching for a touchscreen display solution with brilliant image quality, excellent viewing angle characteristics, and a touch panel that does not lighten or "tail" when touched.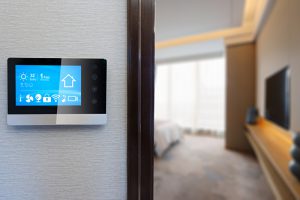 AZ Displays' engineering team offered a customized solution, based on its new ATM0700L61-CT IPS module. This 7-inch display features superior 1024 x 600 dot resolution along with 500 cd/m² brightness. The brilliant visual impression is rounded off by excellent viewing angles, 80° in each direction, and a 800:1 contrast ratio. Finally, the module got refined by a customized PCAP touch that covers most of the application front including additional capacitive switches on the side of the display.
For the datasheet of this type of IPS display with no touch panel please refer to this link: ATM0700L61.
Other sizes and configurations for cost-effective IPS displays, manufactured by AZ Displays, can be found here: IPS LCD Panels.
If you are interested in general information about IPS ("in-plane-switching") display technology from AZ Displays and its main benefits, please visit us here : IPS Technology and Benefits.
For more information about our comprehensive display solutions, please contact:
AZ Displays GmbH
Tel: +49(0)89-800 97 0
office@azdisplays.de
About AZ Displays
AZ Displays, a division of ZETTLER Group, manufactures and markets a broad line of digital TFT panels and LCD modules, and is an industry leading provider of high-quality display solutions in a wide range of industry applications. AZ Displays operates wholly owned engineering and manufacturing operations in Xiamen, China and has sales, application engineering and distribution infrastructures in North America, Hong Kong and Europe.