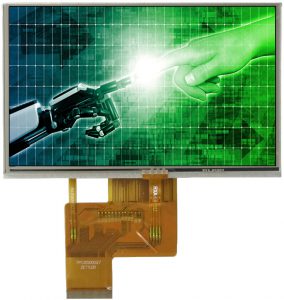 AZ Displays GmbH – New Product Highlight
Munich, Germany July 26, 2019 – AZ Displays launches their new 5.0 inch IPS display series, focused on industrial and outdoor applications.
Compared to the widespread TN LCD format, the main benefits of in-plane-switching ("IPS") display technology are the extra wide viewing angles of +/-80 degrees all around, as well as the extensive high contrast ratio of 900:1.
Furthermore, IPS LCD displays are not affected by viewing-angle dependent color changes and/or washout effects like TN displays.Equally important, IPS displays stand out with their superior and brilliant color image representation.

ZETTLER's new AZ Displays 5.0 inch IPS series are available in three different brightness versions. All these new displays share the high backlight lifetime of 50.000 hours, 800×480 resolution and parallel RGB interface. The standard range also contains resistive touch-panel version and capacitive touch-panel version.
By example, you can find our high end 5.0 inch IPS panel with 950 nits brightness, 800×480 resolution and capacitive touch-panel here: ATM0500D27K-CT.
For special requirements we can offer custom cover glass, also including capacitive touch, interface like LVDS and HDMI up to optical bonding.
For more information about our comprehensive display solutions, please contact:
AZ Displays GmbH
Tel: +49(0)89-800 97 0
office@azdisplays.de
About AZ Displays
AZ Displays, a division of ZETTLER Group, manufactures and markets a broad line of digital TFT panels and LCD modules, and is an industry leading provider of top quality display solutions in a wide range of industry applications. AZ Displays operates wholly owned engineering and manufacturing operations in Xiamen, China and has sales, application engineering and distribution infrastructures in North America, Hong Kong and Europe.