For Immediate Release
3/6/2017
AZ Displays TFT Panels used in Biometric Security Control Applications
Application Spotlight March 2017
Biometric security control systems are rapidly proliferating in many private andpublic safety applications.The high-end security market requires high-quality, fast response displays withimpressive resolution, as well as superior backlight performance and robust, reliablesolutions with long life expectancies.A leading developer and manufacturer of biometric identity products and solutionsrecently required AZ Displays GmbH' assistance in developing a robust solution for oneof its security devices. The customer required a high-resolution display that AZDisplays met by offering an 800 x 480 resolution TFT driven via LVDS interface.The TFT display in this product is AZ Displays GmbH' part number
ATM0500L19B
.AZ Displays GmbH' solution addressed all the critical customer requirements and expectationsfor this application.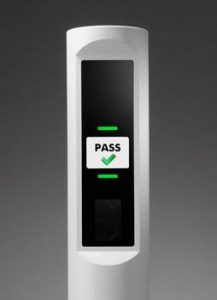 ---
About AZ Displays GmbH, Inc.
AZ Displays GmbH Inc., a division of ZETTLER Group, manufactures and markets a broadline of digital TFT panels and LCD modules, and is an industry leading providerof top quality display solutions in a wide range of industry applications. AZ Displays GmbHoperates wholly owned engineering and manufacturing operations in Xiamen, Chinaand has sales, application engineering and distribution infrastructures in NorthAmerica.
---

For more information
AZ Display GmbH Support+89-80097-0
sales@azdisplays.de
www.azdisplays.de
For more information:
ZETTLER Electronics GmbH.
Junkersstr. 3
82178 Puchheim
Germany
Phone: +49 (0) 89-80097-0
office@zettlerelectronics.com