For Immediate Release
5/26/2020
AZ Displays offers HDMI and USB Touch backpack boards for IPS LCD's up to 10.1"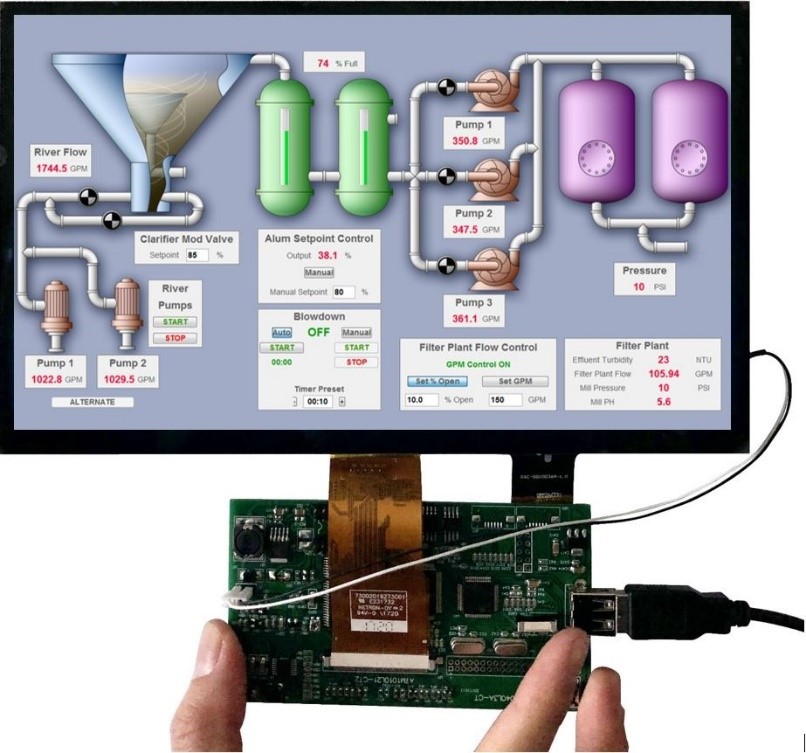 AZ Displays GmbH is proud to expand their product offering to now include a full line up of HDMI and USB-HID boards for their IPS LCD product line. These HDMI scalar boards, along with the I2C to USB-HID PCAP touch controllers, can be used in production environments or for development purposes. Each HDMI board is specific to a display, ensuring that the displays optical performance is optimized to capture the right resolution, timing characteristics, and brightness properties.
Earlier this year, AZ Displays GmbH announced a wide array of IPS LCD modules that range from 1.3" to 10.1". As many engineers in the industry are excited to transition from traditional TN to IPS panels, they are looking for easy methods to light up displays and compare performance to these TN panels. These development boards make it easy to use our IPS panels as LCD monitors, simply requiring a 5V power supply (provided) and HMDI cable. The HDMI scalar will read a video source and scale it to the display's native resolution, allowing engineers to see how GUI pages will look on AZ Displays GmbH' panels. The following displays are already mated with both HDMI and USB boards:
| | | | | |
| --- | --- | --- | --- | --- |
| Display | Size | Specs | Interface Board | Touch Controller |
| ATM0430D44 | 4.3" | IPS, 800 x 480, 700 nits | HDMI | |
| ATM0430D44-CT | 4.3" | IPS, 800 x 480, 600 nits, PCAP | HDMI | USB-HID |
| ATM0500D27 | 5.0" | IPS, 800 x 480, 400 nits | HDMI | |
| ATM0500D27-CT | 5.0" | IPS, 800 x 480, 350 nits, PCAP | HDMI | USB-HID |
| ATM0500D27K | 5.0" | IPS, 800 x 480, 1100 nits | HDMI | |
| ATM0500D27K-CT | 5.0" | IPS, 800 x 480, 950 nits, PCAP | HDMI | USB-HID |
| ATM0700L61 | 7.0" | IPS, 1024 x 600, 600 nits | HDMI | |
| ATM0700L61-CT | 7.0" | IPS, 1024 x 600, 450 nits, PCAP | HDMI | USB-HID |
| ATM0700L61K | 7.0" | IPS, 1024 x 600, 1000 nits | HDMI | |
| ATM0700L61K-CT | 7.0" | IPS, 1024 x 600, 900 nits, PCAP | HDMI | USB-HID |
| ATM1010L19 | 10.1" | IPS, 1280 x 800, 330 nits | HDMI | |
| ATM1010L19-CT | 10.1" | IPS, 1280 x 800, 330 nits PCAP | HDMI | USB-HID |
For more information:
ZETTLER Electronics GmbH.
Junkersstr. 3
82178 Puchheim
Germany
Phone: +49 (0) 89-80097-0
office@zettlerelectronics.com