For Immediate Release
10/28/2019
Turn-Key LCD Solutions for a Wide Array of Applications: Backpack Boards/Shields (Part 3/3).
Capability Spotlight, October 2019.
Industrial grade display solutions offer an extensive variety of interface options for both display and touch communications. Today, the two standard options for TFT technology, both traditional TN and the higher performance IPS, are RGB and LVDS. For PCAP touch solutions, I2C is the main off-the-shelf protocol. Many design engineers today are turning to solutions that require the least amount of software and hardware development and prefer to utilize development tools such as SBC/SOM that come HDMI and USB-HID ready for touch.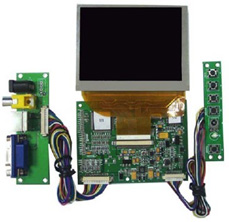 In addition to off-the-shelf LCD and touch solutions, AZ Displays GmbH offers "backpack boards" that allow users to communicate to our TFT/IPS LCDs by means of HDMI or VGA. These A/D video boards can be initialized to work with multiple display sizes, resolutions, and backlight driving characteristics. Ideal for SBC/SOM mainboards with HDMI/VGA input, these low-profile boards can be tape attached to the back of LCDs, or can be mounted by hardware (through-hole stand-offs) to accommodate most product designs. Our touch panel controller boards make both resistive and PCAP touch panels USB-HID ready, for a true plug and play solution. These backpack boards come as standard solutions or can be customized to be application/design specific. Below is a list of solutions that AZ Displays GmbH has provided to the industrial display market:
| | | |
| --- | --- | --- |
| HDMI/VGA Board | USB-C Power and Video | UART |
| USB-HID Touch | SPI | Custom Cables |
Please
contact us
to learn more about our
integration services
.
For more information:
ZETTLER Electronics GmbH.
Junkersstr. 3
82178 Puchheim
Germany
Phone: +49 (0) 89-80097-0
office@zettlerelectronics.com