For Immediate Release
6/12/2018
AZ Displays provides Medical Grade TFT LCD Solution for Blood Pressure Measurement Device
Application Spotlight June 2018
The Design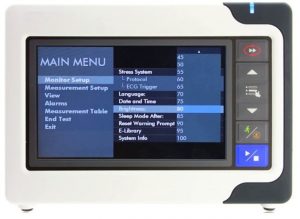 AZ Displays GmbH helped a leading medical device manufacturer design in an energy efficient 7.0" LCD display for their blood pressure measurement unit. The
ATM0700D38B
, is an 800 x 480 RGB, 24-bit LCD that utilizes an integrated DC to DC converter on the FPC, allowing a user to interface to the graphics driver with only 40 pins as opposed to the traditional 50 pin set up for 7.0" TTL modules.
Supporting the Medical Application Market
Many medical applications require sustainability and long product lifecycles. AZ Displays GmbH supports the medical application market by offering a reliable and stable product that can be supported for up to 7 years. AZ Displays GmbH also offers extensive value-add options, including optical bonding, strengthened cover glass, gaskets and sealants (to consider IP ratings and fluid ingress), silk printing, discrete touch buttons, and more. For more information on our standard product and value add services, please visit our website at
www.AZDISPLAYS.com
 or contact the author below.
About AZ Displays GmbH, Inc.
AZ Displays GmbH Inc., a division of
ZETTLER Group
, manufactures and markets a broadline of digital TFT panels and LCD modules, and is an industry leading providerof top quality display solutions in a wide range of industry applications. AZ Displays GmbHoperates wholly owned engineering and manufacturing operations in Xiamen, Chinaand has sales, application engineering and distribution infrastructures in NorthAmerica, Hong Kong and Europe.

For more information
AZ Display GmbH Support+89-80097-0
sales@azdisplays.de
www.azdisplays.de
For more information:
ZETTLER Electronics GmbH.
Junkersstr. 3
82178 Puchheim
Germany
Phone: +49 (0) 89-80097-0
office@zettlerelectronics.com